A, SRH series of high-shear emulsion SRH series - Pipeline emulsification machine working process
Hao Star emulsifying machine (pump) - High shear dispersing emulsifier is efficient, rapid and evenly distributed one phase or more phases to another continuous phase, and under normal circumstances each phase are mutually insoluble. Due to the high tangential speed and high frequency mechanical effect generated by high speed rotation of the rotor caused by strong momentum, so that immiscible solid, liquid and gas in the mature production processing and proper quantity additives, instant uniformly fine dispersed emulsion, through high-frequency circulation, stable high quality final product.
Second, the pipelined SRH emulsifier (pump) series and intermittent emulsifier combination WRL series production process
Hao Star Pipeline High Shear Dispersing Emulsifier is a continuous production of high-performance devices or loop processing of fine materials, in a narrow space of the cavity, the drive is equipped with dual occlusion group multilayer stator and rotor, the rotor of the motor under adjust the rotation, produce a strong axial suction material inhalation chamber. In the shortest possible time for the material to be dispersed, cut, emulsified, feed size distribution significantly narrowed, which can be obtained by a fine long-term stability of the product.
(A) WRL pipeline high-shear dispersing emulsifier advantages:
1. processing capacity, suitable for industrial continuous production line;
2. narrow particle size distribution, uniform high;
3. To save energy, save time, and efficient;
4. Low noise, smooth operation;
5. Elimination of the quality difference between the batch production;
6. No dead ends, material 100% by dispersing shear;
7. With a short-range, low-lift transport function;
8. Easy to use, easy maintenance;
9. automated control.

(B) Hao Star SRH series of high-shear emulsion Menu:

Model

Power / KW

Speed / rpm

Flow range / m3/h

n-d

SRH-60

1.1

2800-2900

0-1

4-Φ14

SRH -80

1.5

0-1.5

4-Φ14

SRH -100

2.2

0-3

4-Φ14

SRH -130

4

0-4

4-Φ14

SRH -140

5.5

0-5

4-Φ14

SRH -165

7.5

0-8

4-Φ14

SRH -180

11

0-12

4-Φ14

SRH -190

15

0-20

4-Φ14

SRH -200

22

0-25

4-Φ20

SRH -210

30

0-35

6-Φ20

SRH -230

45

0-50

6-Φ20

SRH -250

55

0-80

6-Φ24

SRH -260

75

0-90

6-Φ24

SRH -280

90

0-120

6-Φ24

SRH -290

132

0-135

6-Φ24
(三)昊星SRH系列高剪切乳化机结构图: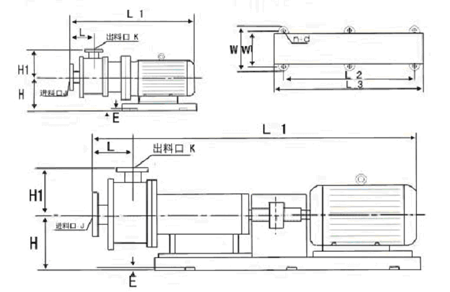 (C) Hao Star SRH series of high-shear emulsion structure:
(Iv) Hao Star SRH series of high shear emulsifying machine Dimensions:
Model
L L1 L2 L3 L4 H H1 E W W1 J_Ø K_Ø n- d Ø
SRH-60 90 575 300 220 298 180 150 20 280 250 40 32 4-14
SRH -80 90 575 300 220 298 180 150 20 280 250 40 32 4-14
SRH-100 90 575 300 220 298 180 150 20 280 250 40 32 4-14
SRH -130 137 743 400 320 357 224 182 25 375 345 50 40 4-14
SRH -140 137 743 400 320 357 225 182 25 375 345 50 40 4-14
SRH -165 137 743 400 320 357 225 182 25 375 345 50 40 4-16
SRH -180 142 864 480 405 405 250 190 25 420 380 65 50 4-16
SRH -190 142 916 480 405 405 250 190 25 420 380 65 50 4-16
SRH -200 142 986 550 475 405 270 190 30 450 410 65 50 4-16
SRH -210 150 1400 1300 1220 450 300 230 30 550 480 80 65 4-20
SRH -230 150 1485 1300 1220 450 325 240 30 590 520 100 80 4-20
SRH -250 150 1800 1500 1420 450 350 250 30 660 580 100 80 4-20
SRH-260 150 1920 1500 1420 600 380 260 30 720 640 125 100 4-20
SRH -280 150 2050 1500 1420 600 380 270 30 720 640 125 100 4-20
SRH -290 150 2050 1500 1420 600 380 270 30 720 640 125 100 4-20