Hao Star HAOSTARS horizontal colloid mill [overall] Features: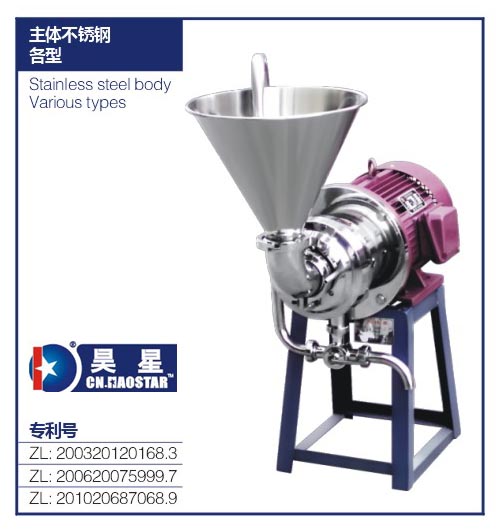 Convenient horizontal colloid mill (vertical and horizontal colloid mill, mill pipeline pump -colloidmill-jiaotimo) Integral have utility model patents, compact structure, novel, environmentally friendly energy, stable performance, the design of new, simple operation, installation and maintenance , small size, high efficiency.
Implementation of national standards GB / T 14466 and enterprise standards Q / WHX02-2010, a domestic initiative.
Horizontal Colloid Mill - Integral colloidmill-jiaotimo grinding (movement disc) made of stainless steel or wear-resistant plate, wear magic grinding, hardness HL800 wear plate.
Body parts and material contact parts are made of stainless steel. Rack and electrical steel paint. With a horizontal axis of the motor and the body piece with rotating structure. And equipped with a hopper, the circulatory system.
This product is wet ultrafine particles horizontal colloid mill grinding, crushing, emulsifying, mixing, dispersing, homogenizing, stirring and efficient functions.
Horizontal colloid mill -colloidmill-jiaotimo overall is suitable for all types of emulsion liquid or paste media materials, handling viscous medium density ≥10000 cps.
Horizontal colloid mill may replace and surpass the stone mill, sand mill, ball mill, homogenizer, emulsifying machine, three-roll machine, broken machines and so on. Also in accordance with the customer to process materials of different nature acidity, alkalinity, stiffness and other special requirements for customized production.