Type A colloid pump (rotor pump)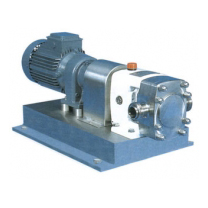 A colloid pump type [stainless steel rotor pump] Features:
Hao Star colloid pump (stainless steel rotor pump) series products: lobe pump - rotor pump rotor, rotor butterfly, shoe type rotor, the rotor trefoil, cam rotor, universal pump rotor unique design, superb processing technology, with independent property rights and other Chinese Patent Patent No. ZL200430151111.X and the use of advanced high-tech production process to manufacture, novel, overall health, environmental protection and energy saving.
This product implementation Iso: 9001 international standard and GB / T16666-1996 and GBT8688-1998 national standards.
ZB3A series of colloid pump A (stainless steel rotor pump), is ordinary motor configuration structure, it must be equipped with inverter.
When you use, it is necessary to configure the drive speed, the best speed range of 200 ~ 500 rpm appropriate.
Colloid pump **** outboard bearing lubrication, allowing delivery of various non-lubricating medium.
Colloid pump synchronization gear, rotating parts do not touch, and prolong life.
Use of different materials can transport a variety of corrosive media.
Allow contain solid particles, and the gas-liquid mixed transportation.

Type-A


Each turns

Displacement
(L)

Motor Power
(Kw)

Motor speed
(r/min)

Optimal frequency

control range
(rpm)

Inlet and outlet

pipe diameter
(mm)

Corresponding

to the flow(L)

ZB3A-6A

6

0.75

885

200~500

Ø25×1.5

650~1600

ZB3A-8A

8

1.5

910

Ø25×1.5

850~2160

ZB3A-12A

12

2.2

Ø38×1.5

1300~3200

ZB3A-20A

20

3

940

Ø38×1.5

2100~5400

ZB3A-30A

30

4

200~400

Ø42×1.5

3200~6400

ZB3A-36A

36

5.5

960

Ø42×1.5

3800~7600

ZB3A-52A

52

Ø51×1.5

5600~11000

ZB3A-66A

66

7.5

Ø63.5×2

7100~14000

ZB3A-78A

78

Ø63.5×2

9000~18000

ZB3A-100A

100

11

970

Ø76×2

11000~22000

ZB3A-135A

135

Ø89×2

15000~30000

ZB3A-160A

160

Ø89×2

17000~35000

ZB3A-200A

200

15

Ø100×2

20000~43000